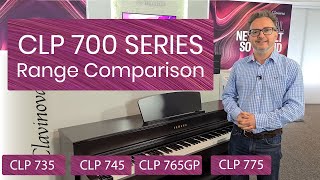 Yamaha CLP700 Series comparison
Video
Features
The GrandTouch keyboard, finely-tuned 3-way speakers and transducers bring you the touch and feel of a real grand piano.
GrandTouch-S keyboard
– Difference in fulcrum position betweem white and black keys – Expressive control to shape the sound from pp to ff – Improved stability (guidance) when pressing the keys – Synthetic keytops
CLP 700 Series
The CLP Series of digital pianos utilises cutting-edge technology to recreate the experience of performing on a grand piano, allowing the pianist to play the keys with many variations of speed and depth to achieve an unlimited variation in tone and create uniquely personal performances. With expressive capabilities approaching those of a grand piano, the CLP-700 Series is sure to make playing the piano so much more enjoyable than ever before.
Sound Quality
Virtual Resonance Modeling performs real-time modeling of the sympathetic resonance created by the behavior of the strings and body of the instrument—the foundation of the beautiful sound of a genuine grand piano. Also, the latest acoustic design technology delivers lifelike concert grand piano tone and resonance to your home for you to enjoy.
FAQ
includes 3 months of YAMAHA FLOWKEY
Have you always dreamt of playing piano or keyboard? Alongside online courses, private lessons with a piano teacher or classes in a music school, there are also other options: Start learning how to play your favourite songs on your Yamaha piano or keyboard right now, at your own pace and whenever you have time – with Yamaha and flowkey.
Flowkey is one of the world's most popular apps for learning to play the piano. Even beginners can learn to play a wide array of songs on their acoustic piano, digital piano or keyboard in next to no time. The flowkey piano app is the ideal companion for those starting to learn the piano. Choose your favourites from a wide range of songs and start playing right away or learn in the traditional way with one of the many tutorials available.
All you need to do is:
• register your new acoustic piano, digital piano or keyboard on the Yamaha Music Member Europe (YMME) portal
• obtain your individual code from the members' portal
• enter your code when registering on the flowkey website.
You will then have premium access to the app free of charge for three months.