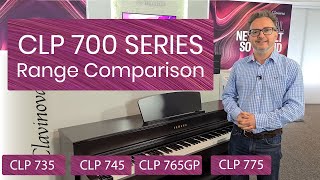 Yamaha CLP700 Series comparison
Features
The GrandTouch keyboard, finely-tuned 3-way speakers and transducers bring you the touch and feel of a real grand piano.
GrandTouch-S keyboard
– Difference in fulcrum position betweem white and black keys
– Expressive control to shape the sound from pp to ff
– Improved stability (guidance) when pressing the keys
– Synthetic keytops
CLP 700 Series
The CLP Series of digital pianos utilises cutting-edge technology to recreate the experience of performing on a grand piano, allowing the pianist to play the keys with many variations of speed and depth to achieve an unlimited variation in tone and create uniquely personal performances. With expressive capabilities approaching those of a grand piano, the CLP-700 Series is sure to make playing the piano so much more enjoyable than ever before.
Sound Quality
Virtual Resonance Modeling performs real-time modeling of the sympathetic resonance created by the behavior of the strings and body of the instrument—the foundation of the beautiful sound of a genuine grand piano. Also, the latest acoustic design technology delivers lifelike concert grand piano tone and resonance to your home for you to enjoy.
FAQ