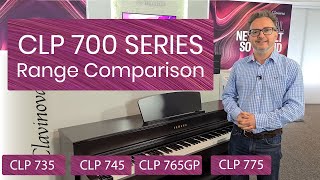 Yamaha CLP700 Series comparison
Video
Yamaha CLP765GP Design
The Yamaha CLP765GP is a 'baby grand' format digital piano, featuring an almost identical specification to the
Yamaha CLP735
, albeit with a few major advantages. Beyond the aesthetic impact of this beautiful instrument, the CLP765GP features a stunning speaker array and a bi-amplified output – meaning there are separate amplifiers to handle low and high frequencies, delivering a more accurate and 'rounded ' sound.
Bluetooth on the Yamaha CLP765GP
Unlike the Yamaha CLP735, Bluetooth connectivity is built-in to the CLP765GP, so you won't need to purchase the
UDWL01 wireless LAN adapter
to connect it to the brilliant Yamaha Smart Pianist app (more info about that
here
).
Key Action
The Yamaha CLP765GP features Yamaha's Grandtouch S key action, with synthetic ivory and ebony keytops and replication of key 'escapement'. Escapement is the mechanism by which a hammer returns immediately from making contact with a played note, leaving the string to resonate freely, so whilst it is a very subtle addition to the instrument, it is a realistic nuance that Yamaha have included here. Combined with the presence of Yamaha's Virtual Resonance Modelling or 'VRM', by which the instrument is able to replicate the tonal and sustaining effects of a wooden piano case resonating at various frequencies in response to the notes being played, we arrive at a place whereby the digital piano is virtually indistinguishable from the acoustic.
General Features
Clavinova pianos feature a wealth of preset lesson songs to aid practice and rhythms to add color to your playing, and can also connect to the Smart Pianist app. Also, Bluetooth® audio makes it easy to play your music files through your Clavinova piano. Clavinova pianos are loaded with fun-enhancing features only digital pianos can deliver.
Yamaha CLP765GP Highlights
New Yamaha CFX and Bösendorfer Imperial piano samples, new Yamaha CFX and Bösendorfer binaural sampling
38 voices, including 2 fortepiano voices (Mozart Piano/Chopin Piano)
Improved VRM (Virtual Resonance Modeling)
Grand Expression Modeling
GrandTouch-S™ keyboard with synthetic ebony and ivory keytops
(50 W + 42 W) x 2 amplifiers
(16 cm + 5 cm) x 2 speaker system
USB Audio Recorder (Playback/Recording: WAV)
20 rhythms
Built-in Bluetooth® audio
Wireless connection to the Smart Pianist app via Bluetooth® MIDI
Specification
CLP-765
Size/Weight
Dimensions
Width
1,430 mm (56-5/16″)
Height
932 mm (36-11/16″)
Depth
1,147 mm (45-3/16″)
Weight
Weight
106 kg (233 lb, 11 oz)
Control Interface
Keyboard
Number of Keys
88
Type
GrandTouch-S™ keyboard: synthetic ebony and ivory key tops, escapement
Touch Sensitivity
Hard2/Hard1/Medium/Soft1/Soft2/Fixed
88-key Linear Graded Hammers
–
Counterweight
–
Pedal
Number of Pedals
3: Damper (with half-pedal function), Sostenuto, Soft
Functions
Sustain (Switch), Sustain Continuously, Sostenuto, Soft, Pitch Bend Up, Pitch Bend Down, Rotary Speed, Vibe Rotor, Song Play/Pause
GP Response Damper Pedal
–
Display
Type
Full Dots LCD
Size
128 x 64 dots
Language
English, Japanese
Panel
Type
Buttons
Language
English
Cabinet
Key Cover
Key Cover Style
Sliding
Music Rest
Yes
Music Braces
Yes
Voices
Tone Generation
Piano Sound
Yamaha CFX, Bösendorfer Imperial
Binaural Sampling
Yes (CFX Grand and Bösendorfer voices only)
Key-off Samples
Yes
Smooth Release
Yes
VRM
Yes
Grand Expression Modeling
Yes
Polyphony
Number of Polyphony (Max.)
256
Preset
Number of Voices
38
Compatibility
–
Effects
Types
Reverb
6
Chorus
3
Brilliance
7+ User
Master Effect
12
Intelligent Acoustic Control (IAC)
Yes
Stereophonic Optimizer
Yes
Functions
Dual/Layers
Yes
Split
Yes
Duo
Yes
Songs
Preset
Number of Preset Songs
21 voice demo songs + 50 classics + 303 lesson songs
Recording
Number of Songs
250
Number of Tracks
16
Data Capacity
approx. 500 KB/Song
Compatible Data Format
Playback
SMF (Format 0, Format 1)
Recording
SMF (Format 0)
Functions
Piano Room
Yes
USB Audio Recorder
Playback
.wav (44.1 kHz sample rate, 16-bit resolution, stereo)
Recording
.wav (44.1 kHz sample rate, 16-bit resolution, stereo)
Overall Controls
Metronome
Yes
Tempo Range
01/05/00
Transpose
-12 – 0 – +12
Tuning
414.8 – 440.0 – 466.8 Hz (approx. 0.2 Hz increments)
Scale Type
7 types
Rhythm
20
Bluetooth
Audio/MIDI (varies by country)
Storage and Connectivity
Storage
Internal Memory
Total maximum size approx. 1.4 MB
External Drives
USB flash drive
Extensive Connection
Headphones
Standard stereo phone jack (x 2)
MIDI
[IN] [OUT] [THRU]
AUX IN
Stereo Mini
AUX OUT
[L/L+R] [R]
AUX Pedal
–
USB TO DEVICE
Yes
USB TO HOST
Yes
DC IN
24 V
Amplifiers and Speakers
Amplifiers
(50 W + 42 W) x 2
Speakers
(16 cm + 5 cm) x 2
Power Supply
Power Consumption
30 W (When using PA-500 AC adaptor)
Auto Power Off
Yes
Power Supply
Adaptors
PA-500
Accessories
Accessories
Owner's Manual, "50 Classical Music Masterpieces" Music Book, Online Member Product Registration, Warranty*, Bench*, Power cord*/AC adaptor* PA-500 *varies by area
includes 3 months of YAMAHA FLOWKEY
Have you always dreamt of playing piano or keyboard? Alongside online courses, private lessons with a piano teacher or classes in a music school, there are also other options: Start learning how to play your favourite songs on your Yamaha piano or keyboard right now, at your own pace and whenever you have time – with Yamaha and flowkey.
Flowkey is one of the world's most popular apps for learning to play the piano. Even beginners can learn to play a wide array of songs on their acoustic piano, digital piano or keyboard in next to no time. The flowkey piano app is the ideal companion for those starting to learn the piano. Choose your favourites from a wide range of songs and start playing right away or learn in the traditional way with one of the many tutorials available.
All you need to do is:
• register your new acoustic piano, digital piano or keyboard on the Yamaha Music Member Europe (YMME) portal
• obtain your individual code from the members' portal
• enter your code when registering on the flowkey website.
You will then have premium access to the app free of charge for three months.