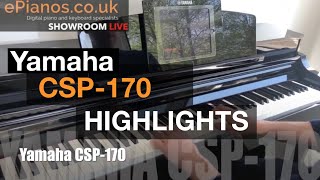 Yamaha CSP170 demonstration
Video
includes 3 months of YAMAHA FLOWKEY
Have you always dreamt of playing piano or keyboard? Alongside online courses, private lessons with a piano teacher or classes in a music school, there are also other options: Start learning how to play your favourite songs on your Yamaha piano or keyboard right now, at your own pace and whenever you have time – with Yamaha and flowkey.
Flowkey is one of the world's most popular apps for learning to play the piano. Even beginners can learn to play a wide array of songs on their acoustic piano, digital piano or keyboard in next to no time. The flowkey piano app is the ideal companion for those starting to learn the piano. Choose your favourites from a wide range of songs and start playing right away or learn in the traditional way with one of the many tutorials available.
All you need to do is:
• register your new acoustic piano, digital piano or keyboard on the Yamaha Music Member Europe (YMME) portal
• obtain your individual code from the members' portal
• enter your code when registering on the flowkey website.
You will then have premium access to the app free of charge for three months.
The Yamaha Clavinova CSP170 digital piano features state-of-the-art technologies, wooden keys and concepts that let you fulfill your dreams of performing on an authentic piano.