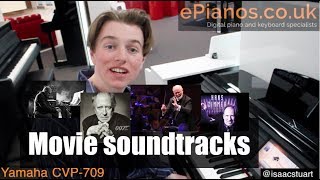 Perfect cinematic sounds on Yamaha CVP709
Video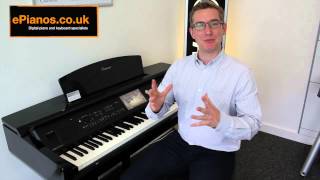 The Yamaha Clavinova CVP-709
Video
USED Yamaha Clavinova CVP-709 In Black Walnut | Featuring latest firmware version and 1800+ MusicFinder songs ready to play!
From professional piano performance to simply discovering the joy of music for the first time, the Yamaha Clavinova CVP709 is truly a family musical entertainment centre. It's the first CVP Clavinova featuring not one, but TWO world-class grand pianos (Yamaha CFX and Bösendorfer Imperial) inside one digital piano.
The Piano Room feature has been expanded to include more pianos and a new Session Mode with a built-in recording studio for capturing and sharing your music. In addition to the NWX (Natural Wood X) keyboard with synthetic ivory key tops, the 88-key Linear Graded Hammer action dedicates a unique weight for each key over the entire keyboard.
Each key also features carefully-adjusted counterweights for improved playability when playing pianissimo and better key return in rapid passages. The NWX keyboard also features an escapement mechanism that reproduces the feel of an acoustic piano as it goes through the let-off and drop of the hammer when a key is played very softly. Beyond the CVP-709's piano performance is a wealth of interactive musical features capable of making music fun for anyone regardless of skill level or experience.
Over a century of piano building experience culminates in a truly modern instrument.
Experience a purely digital piano with the heart of a true grand. You'll feel the difference from the very first notes you play. Realistic touch and response, paired with the unmistakable tone of the finest concert grand pianos ever made, the Clavinova delivers expressive capabilities and a dynamic range that redefines the standard for digital pianos today.
Virtually every instrument Yamaha builds can be found inside.
Yamaha is the World's largest manufacturer of musical instruments, and CVP Clavinovas contain high-resolution, high-definition recordings only possible from a company with this rich heritage. Super Articulation (SA) and Super Articulation 2 (SA2) Voices are both highly advanced and easy to use, making you sound like a pro. With them you'll hear the most realistic reproductions of legato and staccato performance techniques that are so essential to playing bowed and wind instruments. By simply varying your touch and playing techniques or using the pedals, SA and SA2 Voices will add significant authenticity to your sound.
New Speaker innovations by Yamaha include Spruce Cones and Twisted Flare Ports.
Drawing from its experience in building both acoustic pianos and high-end speakers, Yamaha CVP-709 speaker cones use pulp from the same spruce wood used to make acoustic piano sound boards.The result is a more natural, piano-like attack to the sound that is more piano-like when you play the keys.
The Twisted Flare Port, a new Yamaha technology, offers a clearer bass sound. The flared and gently twisted shape evenly diffuses the air flow through the port. Compared to a conventional port, the Twisted Flare Port reduces air turbulence noise, contributing to clear and accurate low frequency reproduction.
CVP-709
Dimensions
Width
1,426 mm (56-1/8″) (Polished finish: 1,429 mm (56-1/4″))
Height
868 mm (34-3/16″) (Polished finish: 872 mm (34-5/16″))
Depth
612 mm (24-1/8″) (Polished finish: 612 mm (24-1/8″))
Weight
Weight
79.0 kg (174 lbs., 3 oz) (Polished finish: 82.0 kg (180 lbs., 12 oz))
Keyboard
Number of Keys
88
Type
NWX (Natural Wood X) keyboard with synthetic ivory keytops (wood is used for the white keys), escapement
Touch Sensitivity
Hard2, Hard1, Medium, Soft1, Soft2, Fixed
88-key Linear Graded Hammers
Yes
Counterweight
Yes
Pedal
Number of Pedals
3
Half Pedal
Yes
Functions
Sustain, Sostenuto, Soft, Glide, Song Play / Pause, Style Start / Stop, Volume, etc.
GP Response Damper Pedal
Yes
Display
Type
TFT Color LCD
Size
8.5 inch (800 x 480 dots WVGA )
LCD Brightness
Yes
Touch Screen
Yes
Color
Yes
Score Display Function
Yes
Lyrics Display Function
Yes
Text Viewer Function
Yes
Language
English, Japanese, German, French, Spanish, Italian
Panel
Language
English only
Key Cover
Key Cover Style
Folding
Music Rest
Yes
Music Clips
Yes
Tone Generation
Piano Sound
Yamaha CFX, Bösendorfer Imperial
Key-off Samples
Yes
Smooth Release
Yes
VRM
Yes
Polyphony
Number of Polyphony (Max.)
256
Preset
Number of Voices
1,270 Voices + 37 Drum / SFX Kits + 480 XG Voices
Featured Voices
13 VRM Voices, 22 Super Articulation2 Voices, 225 Super Articulation Voices, 54 Mega Voices, 67 Natural! Voices, 31 Sweet! Voices, 87 Cool! Voices, 131 Live! Voices, 30 Organ Flutes! Voices
Custom
Voice Edit
Yes
Compatibility
XG, GS (for Song playback), GM, GM2
Types
Reverb
58 Preset + 3 User
Chorus
106 Preset + 3 User
Master Compressor
5 Preset + 5 User
Master EQ
5 Preset + 2 User
Part EQ
27 Parts
Intelligent Acoustic Control (IAC)
Yes
Stereophonic Optimizer
Yes
Insertion Effect
322 Preset + 10 User
Variation Effect
322 Preset + 3 User
Vocal Harmony
VH2: 44 Preset + 60 User
Functions
Dual/Layers
Yes
Split
Yes
Preset
Number of Preset Styles
600
Featured Styles
30 Audio Styles, 473 Pro Styles, 52 Session Styles, 9 Free Play Styles, 36 Pianist Styles
Fingering
Single Finger, Fingered, Fingered On Bass, Multi Finger, AI Fingered, Full Keyboard, AI Full Keyboard
Style Control
INTRO x 3, MAIN VARIATION x 4, FILL x 4, BREAK, ENDING x 3
Custom
Style Creator
Yes
Other Features
Music Finder
2,500 Records
One Touch Setting (OTS)
4 for each Style
Style Recommender
Yes
File Format
Style File Format GE (Guitar Edition)
Preset
Number of Preset Songs
124
Recording
Number of Tracks
16
Data Capacity
approx. 300 KB / Song
Recording Function
Yes
Compatible Data Format
Playback
SMF (Format 0 & 1), XF
Recording
SMF (Format 0)
Demo
Yes
Registration
Number of Buttons
8
Control
Registration Sequence, Freeze
Lesson/Guide
Lesson/Guide
Follow Lights, Any Key, Karao-Key, Your Tempo
Guide Lamp
Yes
Performance Assistant Technology (PAT)
Yes
Piano Room
Yes
USB Audio Recorder
Playback
WAV, MP3
Recording
WAV, MP3
USB Audio
Time Stretch
Yes
Pitch Shift
Yes
Vocal Cancel
Yes
Miscellaneous
Metronome
Yes
Tempo Range
5 – 500, Tap Tempo
Transpose
Yes
Tuning
Yes
Scale Type
9
Storage
Internal Memory
approx. 6.3 MB
External Drives
USB Flash Drive
Connectivity
Headphones
x 2
Microphone
Input Volume, Mic / Line In
MIDI
IN / OUT / THRU
AUX IN
Stereo mini
AUX OUT
L / L + R, R
AUX Pedal
Yes
RGB OUT
Yes
USB TO DEVICE
Yes (x 2)
USB TO HOST
Yes
Amplifiers
(30 W + 30 W + 20 W) x 2 + 40 W
Speakers
(16 cm + 5 cm + 3 cm (dome)) x 2 + 20 cm [(6 – 5/16″ + 1 – 15/16″ + 1 – 3/16″) x 2 + 7 – 7/8″] Spruce Cone Speaker, Twisted Flare Port
Acoustic Optimiser
Yes
Power Consumption
55 W