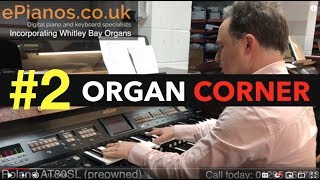 ORGAN CORNER #2 | Roland AT80SL Organ (Preowned) Demonstration
Video
Second Hand Roland AT80SL Atelier Organ in great condition
Complete with bench and manuals
12 Month Guarantee
My Test Drive of the Roland AT80SL
by David Cooper
I've been asked to do a review of the Roland AT80SL, and like cars and other high-end products these letters after the title are aimed in making it sound extra special, so this model is special and luxurious- well I can confirm it is a great instrument to play, very easy to navigate, and very easy to find some great setups. This instrument was actually launched back in 2004, but this is actually one of that later organs still sought after and using more up to date technology, from a Household music brand like Roland, spares are not a problem to obtain should anything need replacing.
The first thing to get your head around is that you can use the touch screen to get you to most of the best settings. It can take you to great registrations, can take you through 1600 song titles in the "Music Assistant" section for easy setups and navigate you through the 222 rhythms, each with loads of accompaniment variations, and sound options.
Selecting from the touch screen is very easy and very visual, so you always know where you are and what you are selecting. It's also in color, so for finding all your options- it's always very clear and there's always an exit button to get you back to the previous page.
Now when the SL series was launched it introduced a new set of sampled organ sounds. Jazz, Pipe, and Theatre. These include the reverb and ambient effects which make them come to life. Think of a Cathedral where the height of the ceiling and the effects of the environment enhance the sound, well the samples that Roland have made include these extra nuances giving you a far more realistic sound than ever before. And the bass samples are deep and resonant when you want that rich Cathedral organ bass enhancing your hymns. I so love the feeling you get when you turn up the volume and feel the vibrations resonating through the bench.
And if you like playing piano style, you have a 76 note lower keyboard which gives you only one octave less than a real piano to play using the beautiful piano presets. And they've even included a sustain pedal next to the swell pedal for those who want to make it more real.
Traditional Organ and Accurate Solo Voices
Now, the AT80SL gives you the benefits of a traditional organ with a full set of drawbars for upper and lower keyboards, but unlike many organs that feature this, you still get all the more modernized and more accurate solo voices and extravagant rhythm styles making your playing experience more enjoyable.
It's amazing how the big "full-on" backing accompaniments which started to show up on organs on the 70's and 80's by Hohner, Lowrey, and Technics have developed into a very accurate and updated "wall of sound" which makes you feel great when using them, and always seems to guarantee a smile when playing with them.
Quick Registration Section
One of my favorite features is the Quick Registration section. This has 11 categories of music types including Big Band, Theatre organ, Movie and show and Latin. Each category gives you a few pages of 8 pre-made setups for all kinds of music taste. They set up everything and it just makes playing so much easier when you can select a category and all the sounds and effects have been pre though up- leaving you to play and enjoy. And you still get the option to use all the fill-ins and breaks, intros and endings. And there are 188 of these to select from.
Elaborate Style section
All styles have an intro and an ending, which are a great way to start and finish your song making you sound more professional and avoiding that awkward "How do I finish and stop the rhythm section?" but they also give you 4 accompaniment variations. These include Basic, 2 x advanced and full backing, and you also get a "fill in" and a "break" button for mid-song variations.
There are some great backings in this section too, ranging from "full-on" Big Band to gentle "Glenn Miller", from gentle Bossanova styles to wild samba and salsa, and from Viennese Waltzes to full Showtime extravaganza accompaniments guaranteed to put a smile on your face.
One-Touch Programs
A great feature that has been improved on the SL series is the "One Touch Programs" section which allows you to select any style and rely on the full settings made by the clever guys at Roland to set everything up for you.
This section will arrange the backings, play correct bass pedals from your chord played, and select great accompaniments and suitable voices to help you enjoy your playing. This is available in so many styles and offers such a great way to get amazing sounds without having to think too much about it! And there's 3552 available to choose from.
Where does all that sound come from?
Speakers in the AT80SL are vast, these don't need to be played loud to get the big sound- but it does feel good when you "crank up the volume" and you get a total of 340 watts of sound, made up from 2 x smaller 10 watt 8cm tweeter speakers for small and full-range sounds, 4 more 60 watt 16cm speakers for full range and large sounds and a large 100 watt 30cm "subwoofer" to bring out the lower bass frequencies.
In my opinion
I have to say that I have loved playing this instrument, the Roland AT80SL has loads of features to help you set it up well, without having to work through each section and select your own voices- but you still can if you want. And being a digital organ means that when you select a registration all the lights display the setting and you can see what's included from each section in the set up- but you still have the ability to change a component of the setting and make adjustments- and if you love the changes you can even save these into the instrument for future use.
So, you can save your favourite settings, you can use those from the Roland experts, you and you can buy disks with extra settings too. You can also record your own songs, or play back someone else's songs bought on floppy disks and you can even view them as sheet music on a digital score displayed on the screen.
The cabinet is nice, finished in dark walnut with softly lit panel lighting to help you see all the choices, and you get a large color screen to ensure you can read everything clearly.
You certainly won't be unhappy with a choice of one of these and with the price only a fraction of what it cost new, you'll be smiling even more!
Dimensions: 27" deep, 52.5" wide
56-note upper manual with aftertouch sensitivity, 76-note lower manual, 20-note pedalboard
6 full-range speakers, 1 woofer for outstanding sound; total 240W rated power output
192-voice maximum polyphony
421 high-quality organ and instrument voices, 210 rhythm patterns
Full-color LCD touch screen with intuitive, user-friendly menus
Onscreen Digital Harmonic Bar for Flute option
3,360 onboard presets with One-Touch Program
Music Assistant function with 1,800 settings and search feature
18 Harmony Intelligence settings
188 Quick Registrations
7-track recorder and 3.5" floppy disk drive for full Atelier compatibility
Warm, luxurious console lighting
With incomparable sound, awesome power, and elegant looks, the AT-80SL brings you the rich expressiveness of world-class organ sound and playability. Sound, power, expression, and design — they all come together in the AT-80SL, the standard model for those who want a truly remarkable organ-playing experience.
This instrument offers a gorgeous dark walnut cabinet, softly lit control panel, and large, easy-to-operate color touch screen. And it's loaded with performance features, including hundreds of instrument sounds and rhythms, Reverb, Rotary, and other effects, a 20-note pedalboard, and, for the first time, an onscreen Digital Harmonic Bar. It sounds sensational, looks great, and feels wonderful.