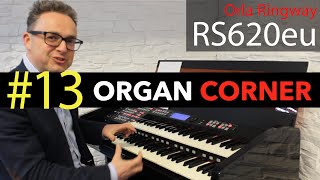 ORGAN CORNER #13 | Orla Ringway RS620eu Organ Demonstration
Video
Great condition – 6 month guarantee – discount available for collection
Original Specification
Taking The Market By Storm… The new Ringway RS600
Following the introduction of the popular RS400 & the further refined RS480EU models from Ringway, the brand has enjoyed a much greater level of awareness, not only here in the U.K. but across Europe, proving its worth amongst other names in the marketplace. As such we are proud to announce that we in the UK have played a part within the development of the RS600 along with the ever developing R & D partnership between Orla Italy and Ringway Tech in China itself.
Orla Europe (Italy and the U.K) has spent a considerable amount of time and resource designing and developing what is now the brand new RS600EU model…  In our opinion the New Ringway RS600 is set to re-define the keyboard market in the UK, something which is evident looking at the recent success following its release.
This new product offers an incredible specification:
300 Super Sounds

200 Styles including 150 Orla Super Styles

80 Factory Presets featuring Lower Split

Rythm & Left Hand Lock Facility – D button

Stunning Hi-Gloss Black "compact" cabinet

Powered by Orla Tech

Launch pack includes a USB stick pre-loaded with 80 additional registration preset banks
The Ringway RS600 has been designed to offer the Home Organ enthusiast a fully featured instrument at a price usually associated with keyboard products.  The compact Hi-Gloss cabinet splits enabling easy transportation and placement in the tightest of spaces!