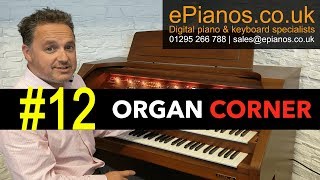 Organ Corner #12 | Orla Grande Theatre Demonstration
Video
The Orla Grande Theatre
The Grande Theatre organ not only takes its place as the flagship or the Orla Range but also represents the culmination of 7 years of development of the Orla GT series. Like its predecessors is it a firm favorite to many. Orla just keeps getting better and better!
The Appearance of The Grande Theatre
The Orla Grande Theatre organ comes along in a beautiful cabinet, that is made from contemporary style wooden veneer. The buttons are golden, and so having a contrasting dark wood background, simply makes the organ look very elegant and stylish.
The Sounds Of The Grande Theatre
The Orla organ has a 7 speaker amplification system, which very much compliments the high definition voices that the organ has to offer you, and of course, this includes the Blackpool Type Theatre Organ voices.
Bursting with so many different sounds to offer you, from strings to saxophones, the Orla Grande Theatre will be able to provide you with the perfect sounds to impress you and your fellow listeners. The Grande theatre certainly does not come short of sounds and is, therefore, able to suit all of the popular music genres.
The Orla Grande theatre organ has certainly been designed with the home player in mind, being able to offer you key features such as Automatic Organ and Automatic Set Up. As the user, this is giving you over 200 professional registrations.
Now, is the organ easy to use?
Absolutely. A huge reason for the success of this Grande Theatre organ is due to the ease of use, which is undeniably a very very important factor that must be considered with your purchase. In order to get the most out of your organ, you need to be able to figure out how you can use it, and once this is mastered you have limitless opportunities to play to the best of your ability. There is no doubt that you will be able to show off to your fellow organists!
So, here are some of the newest additions to the Orla Grande Theatre organ (since the previous model)
Blackpool style theatre organ sounds
Studio sampled piano, strings, guitars, brass, woodwind, and many more. This provides you with ultra-realistic voicing.
Improved 7 channel SCS speaker system with sub-bass enhancement for the ultimate 'live' sound.
Contemporary yet elegant American Walnut Theatre Style Cabinet
Softly lit dark wood grain control panel with high definition gold lettering
Above all, whether in the hands of a home enthusiast or a professional player, the Grande Theatre will not disappoint.
Orla Grande Theatre Highlights & Features
The Orla Grande Theatre is designed to be easy to use. It is excellent for getting a great sound easily. This is due to its
seven categories of registrations. Each category covers a genre of music, varying from Virtual Theatre to Reality Flutebars
and from Reality Orchestra to Reality Band, and each one holds 16 sound registrations.
Another great feature of this organ is the big Blackpool Tower organ sounds, and
coupled with this organ's fantastic speakers you'll feel like you should be coming out of
the floor! Solo instruments are also very realistic too and you can combine up to four
sound/voice sections at the same time to give you that full sound, one of the sections
being a full set of drawbars.
Each voice section has a user button that allows you to allocate one user voice from a
selection of 421. This will then be available on hand as an extra panel voice. You also
have all the drawbar combinations; 44 theatre organ sounds and 12 types of digital
reverb for blending your perfect sound.
The rhythm section is vast with 106 different styles all with 5-part arrangements. This is
excellent for allowing variation and flexibility. Each of these 106 styles has 3 variations to
choose from.
You also get a great feature called "Orla Magic Chord" which gives you open and closed
automatic harmonies worked out from the left-hand chord you're playing- and it really
gives your melody a big boost.
The Orla Grande Theatre has a beautiful cabinet design with a real wood veneer finish. It
also has a veneered roll top lid. The seven-speaker amplification system offers you a full
and rich overall sound and the organ has many easy to use features like automatic organ
set-up for those who don't want to bother playing the pedals and just want a guaranteed big full sound. And every style you
select will give you some fab allocated voices to make the complete sound.
David Says:
The Grande Theatre gives you the opportunity to own a beautiful, top of the range organ with lovely
warm flute sounds and very realistic solo voice instruments, and one of the later organs from Orla
which uses up to date technology.
Specification:
Keyboards –  2 x 61 note Touch Sensitive Keyboards – 13 note pedalboard
Split Lower Keyboard  – Split Lower keyboard option (Programmable Split Point)
Sound Sections – Colour Code System for easy access to all sections
Sound Libraries –  GM Sound List (128 sounds), Theatre Organ Sounds(44 sounds), ORLA XR Reality HD Sound List
(209 sounds High Quality GM sound Variations), Accordion sound List (40 sounds)
Upper Flutes – 9 Flutebars, 4 Organ Presets + 4 User Presets, Attack, Sustain (programmable),
Motion Effect Slow/Fast, Percussion: 5 1/3', 4', 2 2/3'(programmable levels),
3 Click types, Overdrive, Vibrato (programmable)
Lower Flutes –  5 Flutebars, 4 Organ Presets + 4 User Presets, Sustain
Upper Orchestra 1 – 405 Internal Sounds, Chorus, Sustain, Octave, User, Volume
Upper Orchestra 2 –  361 Internal sounds, Portamento, Poly/Mono, Octave, User, Volume
Special – 361 Internal Sounds, Chorus, Sustain, Octave, User, Volume
Lower Orchestra – 361 Internal Sounds, Chorus, Sustain, Octave, User, Volume
Bass – 361 Internal Sounds Sustain, Octave, User, Volume
Conductor – 8 x On/Off buttons for each section. Additive or Self Cancelling Modes
Sustain – Individually programmable for each sound within the Orchestra Sections.
Octave – Octave Shift for each Orchestra section (+ or – 2 Octaves)
Rhythm Section –  106 Super Styles with 3 Variations (5 part arrangements), 16 User Styles,
MFC (2 Types), OFC (5 types covering all one fi nger systems), Auto Bass,
Custom Bass, Auto Chord, Memory, Split set, Intro/Ending, Fade,
Fill 1/2, Auto Start, Start/Stop, Drum Volume, Acc. 1, 2, 3 Volumes
Dynamic Frequency
Compensator –  Low/High Frequency Adjustment, Presence & Mic/Input Level
Digital Reverb – 12 Types – Room 1,2 & 3, Hall 1 & 2, Plate, Delay, Pan Delay,
Organ Room, Organ Hall, Stage, Theatre.
Reverb on/off selection for Upper,Lower, Bass, Drums & Accomp.Reverb Lock.
Orla Magic Chord – Open and Closed harmonies. Octave Up option on Closed Harmony.
S.M.F. Disk –  Auto Save System for all fi les, Record, Play/Stop, Pause, Melody On/Off,
Scroll Up/Down, Rew./FF, Volume
General Presets –  6 banks of 16 Registrations: Reality Flutebars, Virtual Theatre,
Church Organ, Reality Combo, Reality Orchestra & Reality Band.
Left Volume Programmable Manual Balance
Bass to Lower – Bass note is automatically generated from the chord played.
Root note or Chromatic.
Custom Bass  – Auto Bass from Pedals
Lock – All left or Style Only options
Power Up – 2 settings – Default or Last Registration
Easy Edit – Voice Edit system via the Modulation Wheel
Auto Set-Up – 106 Style Settings
Overall Presets –  16 Programmable presets
Styles – 16 Programmable Styles. Style Maker- A very easy system to modify styles
Chorus – Chorus: 16 Types – Chorus 1,2,3 & 4, Feedback, Flanger, Short Delay,
Feedback Delay, Delay 1,2,3 & 4, Pan Delay 1 & 2, Multi Delay 1 & 2.
Enhancer – 5 Types of Surround Sound effects
Pedals – Volume Pedal with 2 foot switches and Piano Style Sustain Pedal
Foot Switch functions – Intro/Ending,Fill 1,Fill 2,Start/Stop, Rhythm Variation, Glide, Hold, Registration
Shift +/-, Fade, Tempo +/-, Slow/Fast Tremolo, Vibrato, Conductor section control.
Controls –  Right/Left Balance, Master Volume, Left Volume, OMC, Set Button
Tuning – Transpose, Pitch
Touch Response –  On/Off, 5 selectable Curves
Wheels – Pitch, Modulation
Midi – 32 Midi Channels, Control Change On/Off, Program ChangeOn/Off, Local Control On/Off, Int./Ext. Clock, Midi In (2)/Out/Thru
Sockets – 2 x L/R Outputs, 2 x L/R Inputs
Headphone – Headphone Socket
Amplification –  7 Channels, 7 Soft Cone Speakers, 170 Watts
Cabinet – Real Wood Veneer with Roll Top Lid & Panel Lighting
Size – (WxDxH) 124 cm x 62.5 cm x 108 cm (Height excludes Music Rest)
Weight – 90 kg