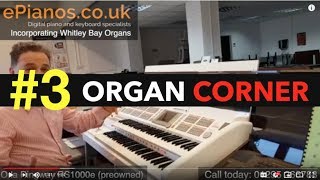 ORGAN CORNER #3 | Orla Ringway RS1000e Organ Demonstration
Video
 This Orla Ringway RS1000E Organ is simply fantastic.
Here are some of the Key Features that this organ has to offer you…
Ringway's new unique sound technology featuring 365 high resolution voices.
The RS1000E keyboard action featuring the new Fatar FastTouch® TP/9S keyboard.
Easily capture your performance or musical idea live.
Intuitive voice editing on the go. Design your own sounds from the ground up, creating a unique sonic personality.
 A multiplicity of rhythmic choices, including 191 live rhythm styles.
Multi effects processor with 73 creative instrument effects, offering unprecedented freedom of experimentation.
Offering the player a natural connection and expressive potential through the keyboards, expression pedal, second expression pedal, joystick and assignable switches.
4 assignable PAD controls open new avenues of choice for musical expression.
Large colour LCD display, combined with the data control located immediately next to the display allows intuitive operation.
Internet capable e-organ workstation with wired Ethernet connection and wireless Ethernet bridge.
Access to dedicated websites allowing you to download new voices, styles and music, whilst being able to upload your own material for sharing and peer reference.
Full connectivity to all your favourite devices and MIDI compatibility.
---