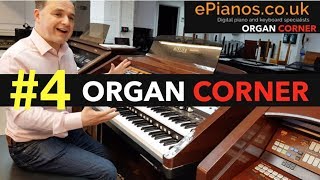 ORGAN CORNER #4 | Roland AT900c Organ Demonstration
Video
The Roland Atelier AT900c Organ
For sale here at ePianos we have the Roland Atelier AT900C organ! It really is such a fantastic instrument. If you keep reading you will be able to look into exactly what it is that this organ is able to offer you.
Some Of The Main Features
The physical Harmonic Bars on the Roland Atelier AT900c Organ provide authentic, hands-on control for expressive organ playing
Perfect Organ, Symphonic and Orchestral sounds includes gorgeous pipe organ voices.
Acoustic-instrument expression with new Articulation Voices using Roland's unique SuperNATURAL technology
Easy-to-use control panel based on traditional organ playing principles and larger colour LCD monitor with touch screen function
The rhythm function automatically adds ultra-realistic accompaniment, letting you play with a virtual backing band of world-class musicians
The D BEAM controller on the Roland Atelier AT900c Organ offers magical expression by moving your hand over the invisible beam.
Quick registration from the hands of world-class organists and convenient Music Assistant functions
The USB host port supports USB memory key
Playing back VIMA TUNES with optional CD Drive, you can enjoy attractive slideshows and lyrics with music.
Organ Sounds and Beyond On the Roland AT900C
From the sound of stately classical and theatre organs of the silent-movie era to up-tempo jazz and rock organs, MUSIC ATELIER provides organ sounds from around the world. These Organs enable to you play any genre convincingly. You can even layer authentic Orchestral Voices with the organ sounds, creating sounds and textures that were never possible with conventional organs.
Harmonic Bar Enables Intuitive, Expressive Playing
The physical Harmonic Bars provide authentic, hands-on control for expressive organ playing. Under the control of the Bars is a Virtual Tone Wheel voice engine. Furthermore, an individual solo bar is provided for the onboard Orchestral Voice, allowing organ sounds to be combined with Orchestral Voices for incredible textures.
Articulation Voices
With new "Articulation Voice" sound set realised by SuperNATURAL technology onboard, the AT-series breathes unprecedented life into Violin, Trombone, Cello, and Tenor Sax voices. Experience the most subtle and expressive characteristics of these classic instruments, including lifelike vibrato, pizzicato, portamento and other authentic nuances.
Convenience & realtime playability
With its simple panel layout, MUSIC ATELIER has been designed with priority given to the real-time needs of playing. Buttons are colour coded according to function. Selection of sounds, voice layering and balance changes — its design enables complete freedom of expression, with all settings quickly changeable in real time.
Rhythm Section
Swing, country, bossa nova — with MUSIC ATELIER you can play along with rhythms from all over the world.
The built-in patterns feature the ultra-realistic groove and feel of professional drummers. By playing simple chords on the lower keyboard, the arranger function (Auto Accompaniment) automatically adds accompaniment, letting you play with a virtual backing band of world-class musicians.
Touch-Panel Magic
To make operations easy, all models feature a large colour touch-panel LCD with a quick-start guide built in. The newly expanded screen enables often-used menu icons to be always shown on the monitor.
D BEAM Expression
An incredible feature that must be seen to be believed — MUSIC ATELIER organs let you "touch the air" above the keys to control an invisible infrared D BEAM. Waving your hand over the beam allows you to alter the sound. Amaze your audience!
Instant Storage & Recall
Your favourite voice and rhythm selections, as well as other panel settings, can be instantly recalled from internal memory. In addition, to save and retrieve your precious data externally, simply plug in a USB memory key — the global external-storage standard.
Media Features
Expand your musical universe by incorporating musical content from around the world.
If you connect a USB memory key or USB CD drive, for example, you can play along with audio CDs or music stored in other formats. Furthermore, if you connect an iPod®or MP3 player to the Roland Audio/Video Port, you can employ the centre Cancel function to minimise vocals. Alternatively, you could use the Pitch Change function to transpose the key of your pre-recorded music to your favourite keys.
You can even connect devices such as the powerful SA-1000 stage amp, mics, and large screen TVs and displays. Excellent, of course for playing on your own, but also great for home karaoke and stage performances. Use the supplied remote control to select songs and play, return, and stop, or to adjust the tempo and key. Whatever the situation, MUSIC ATELIER is sure to be at the heart of the fun.
Rated Power Output: 80W + 80W
Speakers: Tweeter: 5cm x 2, Full-Range: 8cm x 2, Woofer: 20 cm x 2
Width: 1,299 mm / 51-3/16 inches
Depth: 683 mm / 26-15/16 inches
Height1,289 mm / 50-3/4 inches
Weight: 102.0 kg / 224 lbs. 14 oz.
Click here to see our delivery information: https://www.epianos.co.uk/delivery/
Click here to see our terms and conditions: https://www.epianos.co.uk/terms-conditions/
For more information on the Roland Atelier AT900C organ please do feel free to give us a call on 01295 266788 or email us on sales@epianos.co.uk – We will be more than happy to help you and answer any questions that you may have.