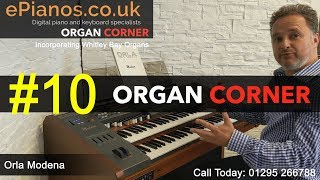 Organ Corner #10 | Orla Modena Demonstration
Video
Orla Modena
This Orla Modena is a fantastic organ, which not only sounds great, but is also a stunning looking organ that would look fantastic in your home!
Please see the specification below to find out exactly what this organ has to offer you.
Specification:
This Orla Modena Organ has:
Keyboards: 2 x 61 note Touch Sensitive Keyboards – 13 note pedalboard
Split Lower Keyboard: Split Lower keyboard option (Programmable Split Point)
Sound Sections: Colour Code System for easy access to all sections
Sound Libraries: GM Sound List (128 sounds), Theatre Organ Sounds (44 sounds), ORLA XR Reality HD Sound List (175 sounds High Quality GM sound Variations), Orla Ultra Reality sound list (34 sounds), Accordion sound List (40 sounds)
Upper Flutes: 9 Flutebars, 4 Organ Presets + 4 User Presets, Attack, Sustain (programmable), Motion Effect Slow/Fast, Percussion: 5 1/3', 4', 2 2/3'(programmable levels), 3 Click types, Overdrive, Vibrato (programmable)
Lower Flutes: 5 Flutebars, 4 Organ Presets + 4 User Presets, Sustain
Upper Orchestra 1: 405 Internal Sounds, Chorus, Sustain, Octave, User, Volume
Upper Orchestra 2: 361 Internal sounds, Portamento, Poly/Mono, Octave, User, Volume
Special: 361 Internal Sounds, Chorus, Sustain, Octave, User, Volume
Lower Orchestra: 361 Internal Sounds, Chorus, Sustain, Octave, User, Volume
Bass: 361 Internal Sounds Sustain, Octave, User, Volume
Conductor: 8 x On/Off buttons for each section. Additive or Self Cancelling Modes
Sustain: Individually programmable for each sound within the Orchestra Sections.
Octave: Octave Shift for each Orchestra section (+ or – 2 Octaves)
Rhythm Section: 106 Super Styles with 3 Variations (5 part arrangements), 16 User Styles, MFC (2 Types), OFC (5 types covering all one finger systems), Auto Bass, Custom Bass, Auto Chord, Memory, Split set, Intro/Ending, Fade,Fill 1/2, Auto Start, Start/Stop, Drum Volume, Acc. 1, 2, 3 Volumes Dynamic Frequency Compensator: Low/High Frequency Adjustment, Output 2 Volume, Mic/Input Level
Digital Reverb: 12 Types – Room 1,2 & 3, Hall 1 & 2, Plate, Delay, Pan Delay, Organ Room, Organ Hall, Stage, Theatre.Reverb on/off selection for Upper,Lower, Bass, Drums & Accomp.Reverb Lock.
Orla Magic Chord: Open and Closed harmonies. Octave Up option on Closed Harmony.
USB Disk: 100 folders/disk for data storage. Auto Save System for all files, Record, Play/Stop, Pause, Melody On/Off, Scroll Up/Down, Rew./FF, Volume
MP3 Record/Playback section: It is possible to store almost 99.000 MP3 songs on 32GB USB Disk. Scroll up/down, Transfer/Play, Volume.
General Presets: 6 banks of 16 Registrations: Reality Flutebars, Virtual Theatre, Church Organ, Reality Combo, Reality Orchestra & Reality Band.
Left Volume: Programmable Manual Balance
Bass to Lower: Bass note is automatically generated from the chord played. Root note or Chromatic.
Custom Bass: Auto Bass from Pedals
Lock: All left or Style Only options
Power Up: 2 settings – Default or Last Registration
Easy Edit: Voice Edit system via the Modulation Wheel
Auto Set-Up: 106 Style Settings
Overall Presets: 16 Programmable presets
Styles: 16 Programmable Styles. Style Maker- A very easy system to modify styles
Chorus: Chorus: 16 Types – Chorus 1,2,3 & 4, Feedback, Flanger, Short Delay, Feedback Delay, Delay 1,2,3 & 4, Pan Delay 1 & 2, Multi Delay 1 & 2.
Enhancer: 5 Types of Surround Sound effects
Pedals: Volume Pedal with 2 foot switches and Piano Style Sustain Pedal
Foot Switch functions: Intro/Ending,Fill 1,Fill 2,Start/Stop, Rhythm Variation, Glide, Hold, Registration Shift +/-, Fade, Tempo +/-, Slow/Fast Tremolo, Vibrato, Conductor section control.
Controls: Right/Left Balance, Master Volume, Left Volume, OMC, Set Button
Tuning: Transpose, Pitch
Touch Response: On/Off, 5 selectable Curves
Wheels: Pitch, Modulation
Midi: 32 Midi Channels, Control Change On/Off, Program Change On/Off, Local Control On/Off, Int./Ext. Clock, Midi In (2)/Out/Thru
Sockets: 2 x L/R Outputs, 2 x L/R Inputs
Headphone: Headphone Socket
Amplification: 5 Channels, 5 Soft Cone Speakers, 120 Watts
Size (WxDxH): 113 cm x 54 cm x 90 cm (Height excludes Music Rest)
Weight: 70 kg
To find out more information why not give us a call on 01295 266788 or 0191 257 1666, and we can answer any questions that you may have about the brilliant Orla Modena Organ.