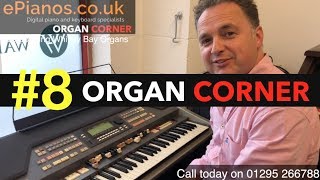 Organ Corner #8 | Hammond XE-1 organ demonstration
Video
At the heart of the XE-system is the  XE-1 "compact", a new breed of Hammond.
A five octave, single-manual Hammond organ. Modern, Fun and Dynamic, that unites a distinctive, contemporary design with an instantly recognised, rich and warm sound quality.
The XE-1 is a precision manufactured instrument that achieves the highest standards of technical excellence, reliability and performance.
The elegant custom exterior styling is just as classy as it is practical and while the "compact" dimensions have overcome most space problems, no compromise has been made in sound or specification.
The double set of exclusive, physical drawbars and superb, digital Leslie simulator, blend to provide the "signature of sound" that is uniquely Hammond. Combine this with a multitude of new and exciting instrumental sounds and special effects and the XE-1 will effortlessly simulate any musical preference.
The distinctive and intriguing appearance of the XE-1 immediately invites you to sit and play.  Switch on and you are transformed into quite a different and special arena of sound, an inspiring place to be.  Where on many other instruments, the general trend is towards complexity, Hammond on the other hand has made the controls of the XE-1easy to use, making you feel completely at home and in command.
With the XE-1 you will experience a totally different and fulfilling world of music making.  But imagine if you could expand your playing enjoyment even further without the need to change your basic instrument.
If you are still not completely satisfied, then, with the XE-system you can achieve the ultimate combination by adding a matching second keyboard, the XLK-1. Now your set-up is complete and ready to emulate all the characteristics of the professional Hammond players with a specification only previously attainable on the higher priced models.
The XE-system is designed with the same passion for creating fine music that is at the centre of the Hammond character.
Play it yourself and discover a spirited, rewarding and refined musical experience.
…The complete HAMMOND experience…
Speakers: 2 x 13cm Woofers, 2 x 5cm Tweeters
Amplification: 2 x 50W