For a limited time only we are happy to say we can offer 0% finance on the Yamaha PSR-SX series keyboards (new models only). This includes the following models: Yamaha PSR-SX600 | Yamaha PSR-SX700 | Yamaha PSR-SX900.
To take advantage of this deal, all you need to do is purchase a new Yamaha PSR-SX series keyboard from our website by clicking here, and then apply for the 0% finance option during the checkout process. If you prefer to speak to one of our team, then simply telephone us on 01295 266788 and we'll complete everything over the phone.
If you currently own an older keyboard, then this is a great opportunity to upgrade! Simply contact us via email at sales@epianos.co.uk or phone 01295 266788 and we'll give you a 'cost-to-change' price straight away. You can even pay the balance using our 0% finance offer. How great is that?
If you're new to the Yamaha PSR-SX series keyboards, then I highly recommend watching some of our superb demonstration and review videos on ePianosTV by clicking here.  As you'll see, this series of keyboards is highly capable and fantastic value for money. You can see one of our recent videos below.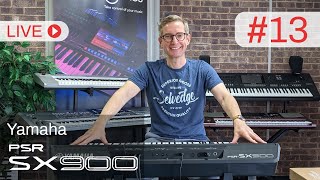 Casual Keyboards LIVE (#13) – Songwriting on Yamaha PSR SX-900 with Chris Hammond
ePianos
Watch our Livestreamed episode #13 of 'Casual Keyboards' where Chris gives some songwriting tips on the Yamaha PSR-SX900 keyboard.
We also preload a huge selection of bonus goodies on our PSR-SX700 and PSR-SX900 keyboards including x10 Free Expansion Packs, we update the keyboard to the latest firmware, we add 600 professional quality registrations, 235 extra styles, 2450 song setups, 15 new playlists, a free GenosTipsters instructional DVD, and a full 2-Year Warranty!
As you can see, buying from a digital piano and keyboard specialist has its benefits! We offer far more than a typical general music shop. You will also have access to our team of Yamaha-trained experts 6 days a week via phone, email, LiveChat, and videocall. Furthermore, you will be invited to take part in our regular interactive LiveStream tutorial videos.
Our team is standing by and waiting to hear from you. If you have any questions whatsoever, simply get in touch with us via email at sales@epianos.co.uk or call us on 01295 266788. We hope to hear from you soon!