Have you been thinking about changing up to the Yamaha Tyros 5? – If so, this might be your chance as I'm offering the following amazing deals for upgrading to a preowned Yamaha Tyros 5 (76) including speakers from earlier Tyros models and certain Yamaha S-series keyboards.
Featured in this post
Find your upgrade price on our chart below:
If you don't have a keyboard to part exchange then we are happy to reduce the price of a preowned Tyros 5 (76) including speakers from £1999 to only £1849.
This still includes all of the Tyros Tipsters extras and goodies as described on this page, including over 600 professional registrations, 1825 additional Music Finder titles, x5 Tyros Tipsters tutorial DVDs, the latest firmware updates pre-installed, and free UK mainland delivery and installation.
Still need convincing? Why not watch my video below where I explain the many benefits of upgrading from an earlier Tyros keyboard to the incredible Tyros 5.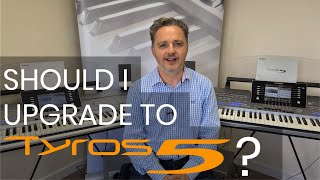 42m
Should I upgrade to Yamaha Tyros 5?
ePianos
Watch David explain the benefits of upgrading to a Yamaha Tyros 5 from an earlier version
All you have to do to take up my offer is call our store on 01295 266788 or email us at sales@epianos.co.uk – we'll be very happy to speak with you and answer any questions that you have.
Oh, and by the way – have you been watching our recent Livestream videos? They've been really fun to make and are a great way to stay in contact with our many customers across the UK and the world.
Even though they were filmed live you can still replay them back. Simply click here to watch them on our website, you might learn something new about your keyboard or piano!
Take care, everyone!