Modern digital piano technology is amazing!
It's truly amazing what you can do with the latest technology.
We are very spoiled here at ePianos. For a musician it's rather like being a kid in a sweet shop, we are surrounded by all the latest piano/keyboard toys!
The capabilities of the latest Yamaha digital pianos are really something to behold and one particular feature I love on the Yamaha Clavinova CVP800 series (CVP805, CVP809) is called 'Piano Room'.
Featured in this post
In short, it allows the pianist to simply play the different types (of pianos of which some of the finest in the world are built in e.g. Yamaha CFX concert grand and Bosendorfer Imperial grand) without any fuss or complications. The piano you have chosen is displayed on the large colour touch screen on the piano's front panel. The experience can then be enhanced by pressing a single button and having a band or orchestra join in with you seamlessly.
The technology is so clever and detecting what you playing and having the band members join in and play along with you, the effect being an instant jam session!
The model I use in this video is Yamaha Clavinova CVP-705 which has been replaced by the new CVP-805 which you can view on our website by clicking here.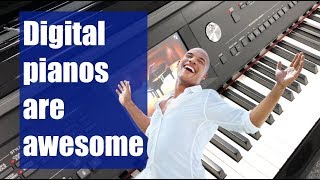 3m
Video
Chris takes us through some of the awesome features seen on a modern digital piano
We often get preowned models similar to this which you can get real bargains on. View our latest preowned selection by clicking here.
Part exchanges are welcome of course and we have finance available too. If you would like to know how much a trade deal will cost we have a special page where you can get a price quickly. Have a go by clicking here.
And of course, you can always call us today on 01295 266788 or email sales@epianos.co.uk.