Thing I liked #1 – It looks absolutely gorgeous
The KORG SV2 wins big points for style. In my opinion, there is no better-looking stage piano on the market today. The vintage look is a timeless one and KORG have absolutely nailed it. It simply looks awesome on stage, or in your shed.
Thing I liked #2 – The upright piano sample rings like a bell
To be done properly, playing piano requires an emotional connection between player and instrument, and within the KORG SV2 you'll find a really good and varied selection of piano samples, but there was one that really struck me right off the bat: the 'Japanese' upright.
I could tell within the first few notes that this sample was going to suit my playing perfectly, and I loved using it.
The folk and classical improvisational pianist Jacqueline Schwab (who you may have heard on certain Ken Burns documentaries), has been a strong influence on my playing, with her particular sentimental style of playing, and this piano suits it perfectly.
Featured in this post
Thing I liked #3 – The default string sound is almost perfect
Orchestral string sounds on digital keyboards are highly subjective.
The different ways they can be programmed vary a great deal, and finding the right type for you isn't always easy. Some attack you too strongly, some take too long to build up, and some are in the middle.
The KORG SV-2 default string sound is the best-balanced string voice that I've ever used on a digital piano. It seems to react naturally to your playing and follow where you want to go, it's really very good, and like all voices that put a tingle down your spine, it inspires you to play more!
Thing I liked #4 – The Value effect makes me drool
The tube value that you see on the KORG SV-2 really adds an authentic warmth and growl to the sound.
When you combine it with the electric pianos and the effects it really comes into its own. As you see in the video when you hit the notes a little harder the sound really snarls back at you.
This will mean that in a live situation you're going to have an instrument that can cut nicely through the band mix and be heard. Many stage pianos can get lost in the band mix and leave you reaching for the volume dial to be heard, but this is where the KORG SV-2 shines and offers something special.
I can't wait to get out and play with this piano on stage.
Thing I liked #5 – The post-process effects are lovingly made
Once you've chosen your base sound, the KORG SV-2 has a number of ways you can alter it.
This is sometimes called post-processing, and it is a major feature of many stage pianos.
When I turned on the 'Room Reverb' when using an electric piano sound, I immediately felt that the character of the voice had changed significantly.
I was so excited as I knew the more 'set back' sound it produced would fit beautifully into a studio recording along with other instruments like guitar and drums.
When you're a recording musician you want to be able to create something unique and the post-processing effects on the KORG SV-2 indicate to me that the designers were sympathetic to this, and they've made their plethora of effects with love.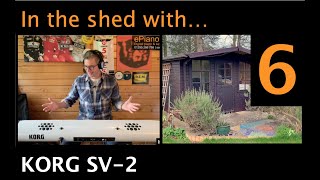 26m
My take on KORG SV-2 in 2021 | In the shed with… (ep#6)
ePianos
Watch me exploring the KORG SV-2 stage piano in The Shed.
Thing I didn't like #1 – It's very difficult to carry
I've chosen my words carefully here because the weight of the KORG SV-2 range is not all that different from its competitors.
But the downside of having this beautiful vintage-style cabinet is that it's rather hard to get a purchase of it.
There are no boxy corners, like on rival makes, that you can easily grab onto while picking up and moving it. It might be the case that you can't have such a sleek design without having to sacrifice such things, but even a couple of small indented handholds would make life easier. So, not a deal-breaker, more of an annoyance.
Thing I didn't like #2 – You can't easily layer sounds
Mixing together sounds is a lot of fun on digital pianos and keyboards. On most keyboards/pianos that I've played, it's very simple to do, usually involving a button on the front panel or the homepage of a touchscreen.
On the KORG SV-2 there is no way to manually mix sounds together. There are some very nice preset sounds that are mixed, but there is no way to make your own mixes without involving a computer.
This is likely another sacrifice that has been made to keep the vintage-style to the front panel of the keyboard.
It's understandable, but it's a shame that such a common tool couldn't be implemented somehow. Note: If you did want to use a computer to mix sounds and other things, then KORG has their own program for the SV-2 called the SV-2 Sound Editor. I used it to create some voices in the video below, it's really simple to use on PC or Mac. Sadly, there is no iOs or Android version yet.
Thing I didn't like #3 – The keys are plastic, not wooden.
The keys on the KORG SV-2 are weighted very nicely and do feel like a traditional piano to play, but they're not the best-weighted keys on the market.
Other similarly priced models, like the Yamaha P515 and Yamaha CP88, have wooden (white) keys that add a nice touch of authenticity to them.
If you're a piano purist, then perhaps KORG SV-2 is not for you. Again, this piano is clearly not designed to appeal to people who crave piano playing authenticity in a stage piano, so I don't consider this a major failing, it only further indicates that the KORG SV-2 is stubbornly sticking to its guns at filling a niche in the market, and it does that very well!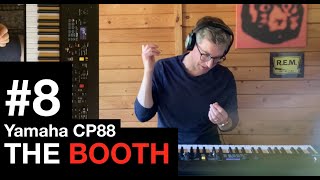 26m
Yamaha CP88 piano review | The Booth #8
ePianos
See me playing one of the KORG SV-2 competitors in The Shed. The Yamaha CP88.