Hi everyone. If you've decided that you want to share your music online or email it to a friend, then you first need to get it from your keyboard and onto your computer. On the Yamaha PSR SX-700/SX-900 this is made very easy to do. All you need is a USB stick. Yamaha have issued a list of compatible USB sticks, but we found that it's very difficult to buy one that won't work! – Of course, we'd recommend our own 'Tipsters' 8GB USB stick which we regularly use ourselves, and you can buy by clicking here.
The touchscreen system used on Yamaha PSR SX-700/SX-900 makes the whole process of recording very simple, but specifically for transferring to a USB stick you need to have the USB stick plugged in to begin with. Note that it doesn't matter which of the two sockets it goes into. (on PSR SX-700 you only have one socket anyway). Watch my video below to see how to do it.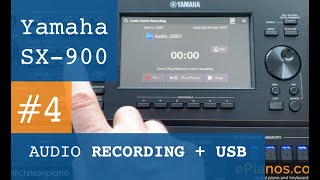 6m
How to record on Yamaha PSR SX-900
ePianos
Watch Chris explain how to use the audio recording feature on Yamaha PSR SX-900
Once you have your audio recording safely on the USB stick you can remove it from the keyboard and insert it into your computer. The method of transferring it from your USB to the computer itself will vary depending on which computer you have and which system it uses. But in general, the drag & drop or copy & paste method will be needed. What you will find is a high-quality audio recording that sounds exactly as you played it on your keyboard (A .wav file to be precise). This is the benefit of using 'audio' recording instead of the MIDI recording system.
If you are the owner of a Yamaha PSR SX-900 'mini Genos', then you might find our other tutorial videos helpful. You can see them all in one place on ePianosTV by clicking here. Take care everybody.