Perhaps a Flute with a nice mellow piano playing a soft melody together, like Tchaikovsky's 'Waltz of the Flowers' with the strings to accompany. Or a swing jazz trio with the upright bass, the Rhodes electric keyboard and the drums… well, wonder no more! Because with the Yamaha Tyros 5, you can do just that, and I'm going to show you exactly how. Stick around to find out!…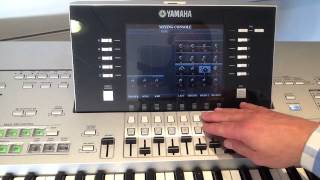 4m
How to mix sounds on Yamaha Tyros
ePianos
David shows us how to mix sounds on the Yamaha Tyros
It's a dream come true for many musicians, like myself. When you haven't got the expenses, nor the time and space to meet in person with other musicians, especially not now with Covid still kicking about! So that's where Yamaha come in with their wonderful Tyros 5 composer keyboard and its ability to mix many different voices together, to be played at the same time. The best part is that it is very straightforward! Here's your step by step guide as to how to go about accessing this feature and using it to its full potential:
First, start by plugging the keyboard in and turning it on at the back. Once you've given it a few moments to start up, you'll want to head over to the right panel of the keyboard which is titled 'PART SELECT'.
To play two voices at once, simply press 'right 1' and 'right 2', and they will both light up in a light red colour. Now when you play, both voices will come out at the same time. If you'd like to play 3 voices at once, simply press 'right 3' as well. 
I should also mention that you will need to click 'right 1' on the column above (it should light up in blue), doing this will allow you to then change what kind of voices you would like on the right 1 voice. To do this you will then need to go to the 'VOICE' category, which is located just above the 'Part Select' option. 
Choose what voice category you'd like, eg. strings, then on the screen it will display the array of different voices for the category you choose. 
Once you have done this, and you have pressed the corresponding letter next to the screen, press the exit button at the bottom right corner of the screen pad. 
Do this for the other voices you'd like to use as well, by clicking 'right 2' and then after, click 'right 3' (if you'd like to use 3 voices), remember this is found under the 'PART SELECT' option.
Now when you play, all 3 voices will come out at once.
But wait… there's more… if that wasn't enough for you, then get a load of this… you are also able to split the keyboard as well as have 3 different voices coming out of it at the same time!
To do this, you simply need to head back over to 'PART SELECT' and click 'left' on the bottom column, it should now light up in red like the others. Now select what voice you would like to have on the left side of the keyboard in just the same way as you did with the other. Once this has been done you will have one voice coming out of the left part of the keyboard, to be played with your left hand, and a further 3 voices coming out of the right side of the keyboard to be played with your right hand.
Featured in this post
On top of all this, you can alter the volumes of each individual voice too. So if you wanted your 'classical guitar' to stand out the most over your 'accordion', and your 'string ensemble' to sit nicely underneath, then this can easily be set by playing around with the different volume levers under the screen. For 'left' it will be lever 5, for 'right 1' you would use lever 6, 'right 2' would be lever 7, and 'right 3' would be lever 8. 
There is also an option to hold the left side down, just as if you were using a sustain pedal, allowing the notes to ring out. This option is helpful for when you are playing chords on the left hand whilst playing melodies on the right, as you won't want the notes on the right hand to ring out, but you might do on the left. So all you need to do is tap the 'lower left hold' button under 'PART SELECT' and that's it! It is also just as simple to turn off as it is to turn on, just simply hit the 'Lower left hold' button again.
The last thing to say about this wonderful, creatively freeing feature is that you can also apply all of these settings whilst playing with the whole accompaniment backing that the Tyros has too. Does it get any better?!
So in other words, when you play your left handed chords on the left side of the keys, not only will the accompanying band follow you but you will still keep the voice that you chose for the left side too, as well as still being able to play up to 3 different voices on the right hand too. Incredible I know!
I hope you have enjoyed this blog all about how to mix the different voices on the Tyros 5 and what you can do with them. Make sure to subscribe to our mailing list for weekly updates on all of our latest deals and special offers.
Bye for now,
Max