If I had a penny for every time I've been contacted about this one..!
If you've gone to use the excellent Music Finder feature on your Yamaha Tyros keyboard and broken out into a cold sweat when you've been suddenly confronted with a list of songs that looks nothing like it did last time you played, then you'll be in good company as it's happened to most Tyros players at some point.
You most likely are used to seeing a beautifully arranged list of songs in alphabetical order all ready to be browsed and lovingly played thoroughly. However, occasionally you might find this has gone awry and your songs are organised in an unusual and unexpected order.
Don't despair though because the solution is very easy if, like most things in life, you know how! – You firstly have to open up the Music Finder and press the button which changes the order of the songs.
There are more ways to organise your songs within the Music Finder than just alphabetically, although this is the standard way of arranging them some people find it more useful to use one of the other settings which I explain in the video below…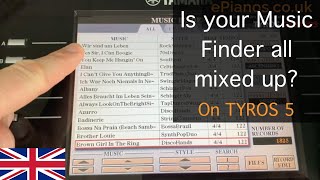 6m
Help! My Music Finder is all mixed up on Yamaha Tyros 5
ePianos
Watch Chris's video explaining how to unscramble your Tyros music finder
You may have noticed in the video that our music finder is amply filled with over 1800 song titles (it says the number on the bottom right of the music finder page).
This is because, being Tyros Tipsters, we have lots of extra titles which we insert into our customer's Tyroses. If you don't have this number of songs on your Tyros music finder then you can easily add them from a USB memory stick.
We even supply pre-loaded memory sticks (with instructions) which you can buy on our website here.
On the subject of Tyros Music Finder, in a couple of videos a long time ago when David and Myself had considerably darker hair and less forehead, we filmed some excellent Music Finder beginners guides. I've put the videos below for you to see.