Well, this year has been a bit of a strange one, with clapping on doorsteps, meeting friends over an iPad screen, and having your shopping arrive by a delivery driver for the best part of the year.
Christmas is upon us and it's time to enjoy carols on your keyboard and get immersed in the joy that music can bring, whiling away hours of lockdown with the sounds of your keyboard and the smiles of the nostalgia it can rekindle.
I've set up registrations for 5 Christmas carols, not all in the traditional settings- as I like to push the boundaries and experiment with different styles.
The first one is The Holly and the Ivy and used a great style in the "classics and events" category- which you have to find as it's a great "pomp and circumstance" waltz with loads of oomph and great fun to play with.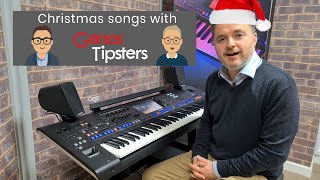 18m
Christmas songs on Yamaha Genos | Claim your free registration
ePianos
David talks us through his collection of Christmas registrations on the Yamaha Genos
Registration 1 has all the brass instruments forged together to give you a full bright sound and I've put lower horns in your left hand too. Button 2 in contrast, is using the beautiful combination of string voices.
I've added lower voices to these settings too which help fill out the sound and the harder you press the more emphasis is on the big chords you are playing as a constant alongside the bouncy style.
Song 2 on buttons 3 and 4 is The First Noel and it uses one of the Freeplay styles "On Broadway". Freeplay styles are great as they give you this big constant "wall of sound" in your left hand and there's no beat to keep up with- just that full sound and you can play at whatever speed you like.
I've added the choirs in the left hand which when pressed harder will really add some clout and the depth of the choir will be very much more dominant.
The sounds on button 3 are flutes and oboes with strings and a glockenspiel to "cut through" giving it a more twinkly Christmas feel.
In button 4 I've put a full sound of choirs and made these double up using the keyboard's "harmony/echo" feature to automatically add extra notes in my melody chosen from my left-hand chord notes
For my third song Mary's Boy Child I've found a great style that I had never even heard of till I started being inquisitive and I can't believe I'd overlooked it.
Afro Cuban is one of these styles that you could use for many Latin songs but it has a strange twist because the D button style variation goes back to a more "swingy" walking bass jazz backing – which I think I'll start using for some of my jazz standards now.
In button 5 I've used a steel band sound which has a real punch and is best played in a more staccato manner – where you don't hold on to the notes very long and you make them short and percussive.
Sound in button 6 is trumpets and trombones, again better-played staccato -if you press a little harder and longer on notes you get the "lip trill" wobbly sound effect. I've put the organ into the left hand as a lower voice to fill out the sound of the style – you don't have to hold your chords on all the time – this can be used only some of the time for a bigger sound.
Song 4 is in buttons 7 and 8, this is Away in a Manger. Again I've used a Freeplay style "organ hymn" which again leaves you open to play faster or slower whenever you want and no pressure to have to keep up with a tempo.
Button 7 is the chapel organ soft and sweet, the sound that brings the memories of me waiting to go up for holy communion when the organist plays softer. The second sound in button 8 is the "full ranks" cathedral sound that rattles the floor and gives you hairs on the back of your neck with its depth and overpowering richness. There's an organ sound in the left hand too.
On this one, I've used the synchro stop feature. Now I usually use just synchro start- probably on every song to synchronise the backing intro to start when I start playing.
If you press synchro stop with this you get the same synchronised start, but every time you let go of your chord the backing stops again.
This is also ideal for fast backings where you need to restart your song regularly to find the first beat because a new bar is started every time you let go of your chord and press it again. When you are using a lower sound this will do the same.
My last Christmas song is the lovely Good King Wenceslas which I've used in the slow Bossanova style and in button number 9 there's a sweet smooth jazz guitar with a full choir.
On button 10 there's a tenor saxophone with a girl's choir in the left hand. Remember the harder you press on your chords, the fuller the choir sounds will be and the more full they will sound.
I hope you have enjoyed listening to my registrations- they will work on an SX700, SX900, and Genos. it is very clever how you can be using the same settings as me by just transferring the registration settings on a stick and creating the same sounds on your instrument, all by email- but if you do want a copy of my sounds, please email (sales@epianos.co.uk) or phone us (01295 266788) and we'll email over a copy for free.
And if you're not conversant with emails and computers- then you can click here to purchase a stick with them on and we'll post it to you with instructions.
So have a fab Christmas, keep in touch, if you have any questions don't hesitate to get in touch and if you aren't receiving our weekly email newsletters, let us know and we'll get you on the list.