Best pianos & keyboards to 'Learn From Home'
These have been very popular choices this year...
Finding ways to keep busy and healthy at home has become very important this year. Going into the winter months it becomes even more so! – Below are some of the piano & keyboard models that have been popular for learning from home.
Featured in this post
Yamaha Arius YDP144
It's a reasonably priced 'starter' piano with classic looks and a proper piano touch (we mean it has 'weighted keys'). – It's a good place to start if you're just dipping your toe into playing piano, or if you're buying for your children and you're not sure if they'll still be interested in a year's time! (Also worth looking at the YDPS34 as exactly the same instrument in a contemporary cabinet.)
View Product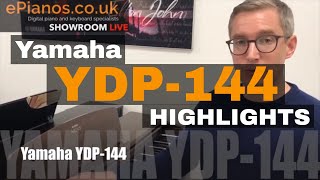 4m
Video
Watch me demonstrate the Yamaha Arius YDP144 digital piano - It's small but superb!
Yamaha CSP-150/170
I love these models. They're designed for the smartphone/tablet era and use very clever technology we call 'droplights' (see my demo video featuring this below). They also has a traditional enough design that can live happily in the sitting room without clashing with your furniture. These models are fun for all ages and whether you like technology or not. They can still simply be switched on and played like a regular piano.
View Product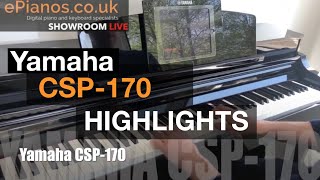 3m
Video
Watch me use the Yamaha SmartPianist app with CSP piano.
Yamaha P-125
In terms of popularity, this one has to be the winner. We have never had a bigger selling keyboard than the Yamaha P125. Why? – Because it's very reasonably priced, it has weighted keys like a piano and perhaps most of all; it's very small and lightweight, so you can store it away easily to save space. It's very much a 'turn on and play' keyboard, in that it's not very feature heavy, but this suits many people and you can expand what you do with a smart device and the Yamaha SmartPianist app.
View Product
Yamaha PSR SX-900
I have a personal stake in this one as I've had this model at home with me since March! – Clearly, it's not aimed at total beginners but that's not to say you couldn't begin with one of these, let me explain… The Yamaha PSR SX-900 is a creative person's dream instrument and you don't have to be an expert pianist to produce cinematic quality music. So much can be done with your two index fingers alone! – This keyboard is a treasure-trove of musical possibilities. Watch some of our videos on it over on ePianosTV by clicking here.
View Product
Yamaha CVP805/809
If I could choose any piano to have at home with my family for weeks it would be this one. It is so much more than just a piano, it's a complete music center. It has a large touch-screen showing music with tutorials for adults, there are backing bands to play along with, multi-track recording and, perhaps best of all, there are musical games for children (which are really excellent btw). All this packaged into a stylish piano cabinet which again will look very nice in the home. You must watch my video demonstration below. Enjoy!
View Product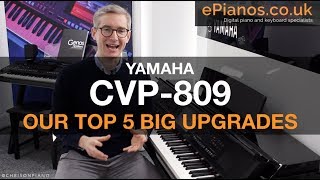 11m
Video
Watch me introduce the amazing Yamaha CVP800 series digital pianos
And finally I must mention on the subject of learning from home; Yamaha have teamed up with the excellent learning program called Flowkey, and are offering 3 months free access to their app (all you have to do is register your product with Yamaha). It's a brilliant system and perfect for use with tablet or smartphone (even laptops). You can pop it on your music rest and learn at your own speed. You can read more about it by clicking the button below.
Find out more
You might like...
Looking for a Piano this Christmas? Here's our Top 3 to suit all budgets!
Have you watched the John Lewis Christmas Advert yet? We love it here in the office! It tells the story […]