Hello everyone – I hope you're getting plenty of practice on your piano or keyboard? Blimey, it's been quite a year so far hasn't it?
I wanted to send this personal message to say thank you, to you our customers, and to everyone who has supported our company during this awful year.
I've spoken with so many of you over the phone/email during this time and the conversation often goes beyond simply pianos and keyboards into your personal lives.
This wonderful kinship which stems from our shared love of music is the best part of this job, and I wanted to say a heartfelt thank you to everyone for your goodwill and your support.
As fellow players, you'll know how wonderfully therapeutic playing your piano or keyboard can be during difficult times and I hope you've found as much solace in your own instruments recently as I have in mine. (By the way, if you're wondering what I play at home it's a rather lovely Yamaha Clavinova CLP575 in polished ebony. Only spoiled slightly by my wife having spilled nail varnish on it and my daughter's toys seemingly being permanently stacked on top!)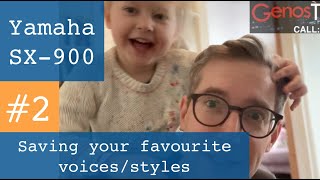 2m
How to locate your favourite voices/styles on Yamaha SX900
ePianos
Watch Chris's 'little helper' not doing much actual helping & see how to save your favourites on SX900
Trying to produce our videos while being locked down at home wasn't easy, particularly with my 4-year-old daughter insisting on helping ('helping' in the very loosest sense of the term!), but now that we're able to return to our office here in Banbury we should be able to bring you interesting and useful videos more frequently.
Speaking of children: I'm glad to report that our new baby arrived safely on June 24th (We've named him Toby) and he and mum are doing very well. Thank you to those of you that sent congratulations and gifts!
You may have noticed more newsletter emails coming from us lately, this is one way of keeping in touch that we're trying to get better at.
We're so lucky here getting to play on all the latest pianos and keyboards every day and we're keenly aware that because of Coronavirus restrictions it's currently difficult or impossible for you to come and try them yourselves (note, we are now offering covid-safe visits by appointment), so we're making a real effort up our game when it comes to producing demonstration videos and written articles.
By the way (if you haven't already), click here to visit our website blog which is where we post our very latest activities. If you're not receiving our regular emails then sign up at the bottom of this page.
What am I really, really, really enjoying playing here at the shop currently? – That's easy: The Yamaha Clavinova CVP809 (I've tried to convince David to let me have one on permanent loan at home but he's not falling for it).
Featured in this post
For those of you that don't know, this model is Yamaha's current flagship digital piano, or in simpler terms: The best all-round digital piano created by humans to date!
When I sat down and played this piano after returning to the store from lockdown, it actually sent a shiver down my spine. The fidelity of sound has reached such a high level that, particularly when wearing headphones, you can become totally engrossed in playing and don't want to stop!
By the way, the wonderful team at Yamaha Music has arranged a special demonstration day (places are limited) here in our store which you can read about here.
Well, I must sign off now and get back to work (or play, depending on how you look at it). Please don't be a stranger and remember that myself, David, and the whole team are here to help you with your instrument.
Get in touch, even if it's a small question you have. It's always good to hear from you.