We're very happy to be offering 0% APR finance* on a selection of Yamaha keyboards and digital pianos. (*Terms & conditions apply).
Spreading the cost of buying your new keyboard couldn't be easier. All you need to do is choose the piano or keyboard that you want to buy and click the 'Apply' button.
Look for products with the purple 0% finance label as pictured below.
After filling out the pop-up form, we will contact you with an online finance application. If accepted, we'll be in touch to take your deposit and arrange delivery with you.
We've chosen some of Yamaha's most popular digital pianos & keyboards to be included in our 0% APR finance offer. Here is the list in full:
Yamaha DGX-670
Yamaha PSR-SX600
Yamaha PSR-SX700
Yamaha PSR-SX900
Yamaha Genos
Yamaha Arius YDP S34
Yamaha Arius YDP-S54
Yamaha Arius YDP-144
Yamaha Arius YDP-164
Do you have an instrument to part-exchange? If so then you can get a quick trade-in quotation from us if you fill out our part-exchange form by clicking here.
If you'd like to know more about this offer all you need to do is get in touch. You can ring us at the shop anytime on 01295 266788 or email sales@epianos.co.uk
If you're new to learning the piano then you might find my video below helpful. I explain the main differences between digital pianos and keyboards to help you choose the right one.
It's not always easy choosing your first piano so here at ePianos, we do our best to explain things in simple terms in a way a beginner would appreciate. You can see more of our videos like this on ePianosTV by clicking here.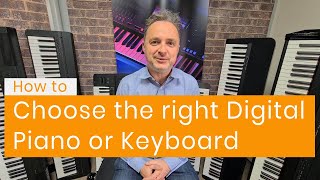 25m
How to choose which Digital Piano or Keyboard to learn
ePianos
Watch David explaining what to look for when choosing your first digital piano or keyboard
We look forward to hearing from you!